Hello Circle-Skirter's! Are you ready for the party? A great big "Thank You" to Casey at Casey's Elegant Musings for organizing and leading this sew-along. If you haven't visited Casey's blog, I encourage you to do so. It's such a lovely place for inspiration...and if you're into vintage (even a little bit), you'll absolutely love it!
Here in Indiana, we're enjoying a bit of a heat wave...sort of a Pre-Indian-Summer-Summer, if you will. So...posing in a wool skirt and sweater made for quite a toasty experience, let me tell you! Add to that a bit of photography drama* (rant to follow, for those interested)...and, well...I hope I don't look too grouchy!
My KatyDidStitches Circle Skirt is made from a heavy brown herringbone tweed (garage sale find...4 yards for six dollars!)...and features a flower and vine motif in black velveteen applique...with beaded accents. You can read about it's construction here, here, hear and heeya.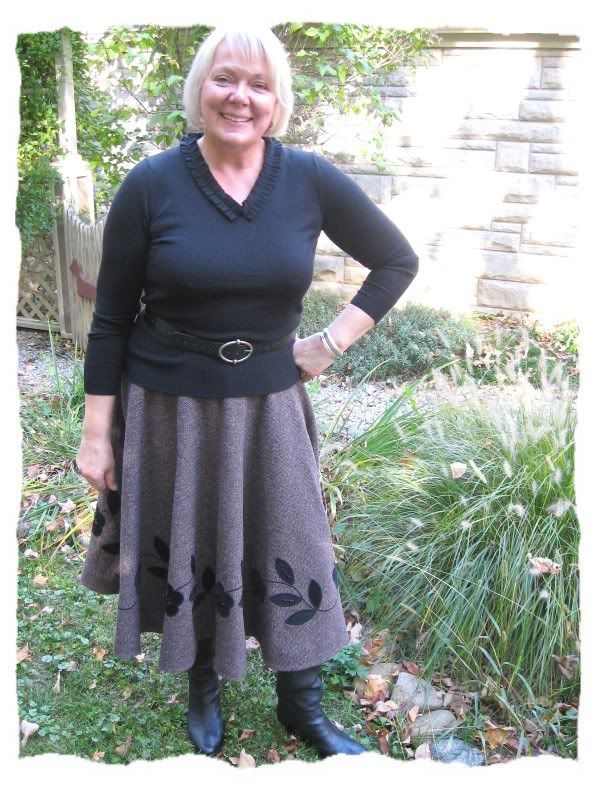 The obligatory hand-on-hip pose...makes one look slimmer, you know. Is it working?
I purchased this black sweater to go with my new skirt. I think I may be the only woman in America that didn't have one in her closet. Now I have exactly TWO black items in my wardrobe...my new sweater and my black boots...and I'm wearing them BOTH in this picture!
A pretty lining is a must for me...and I love this paisley silk...nice and swishy!
I'm looking forward to wearing my skirt this Winter. The Mailman and I don't attend a lot of sparkly Holiday parties (actually, NONE)...but I think this will be perfect for Christmas carols at the Honeywell Center, potluck suppers and Midnight Mass. And I hope it snows...a lot! So's I can twirl in the snow with my new Circle Skirt!
*And now for the rant. I've come to the conclusion that if I'm going to do very much of this (blogging about garment sewing)...I'd better learn how to take my own pictures. After struggling for HOURS with a tripod and timer...and not one usable photo to show for it...I enlisted TM's most unenthusiastic help. And got a total of FIVE shots. FIVE. And two of those because I asked for a retake. This from the man who has taken THOUSANDS of pictures of me. I'm serious. Thousands. Of course, I wasn't posing with a stuffed cowboy or holding up a bottle of snake oil or some other foolishness...and this photo op was not HIS idea...so it was a complete waste of his time. Evidently. Couldn't even manage a "You look nice." So...pressing out that little crease in the front and retaking the picture was out of the question. Same goes for changing my position so that the sun doesn't make my skirt appear to be tie-dyed. Perhaps I need to find a way to make this process enjoyable for him. More spandex, maybe?
There. I feel better now. And yes...he does read this blog. You may call me passive-aggressive.